And so to Winton. This place in outback Queensland is noted for two things - firstly it is where one of our most famous bush poets, AB (Banjo) Paterson composed the words to our national song "Waltzing Matilda" and set it to an old Scottish air, and secondly – and more recently – it is most likely the dinosaur capital of Australia. Only about 30 years ago fossils and ancient bones were found on a station property and the owners were sufficiently intrigued to call in the experts from a Queensland university. Subsequent digs found masses of dinosaur bones and most dated about 90 million years ago. David Elliot the property owner donated the area, and the Australian Age of Dinosaurs was founded. It is growing in stages but at the moment consists of an excellent reception area/book and souvenir shop and a display with audio visual 'theatre' for visitors. Also offered is a tour of the Lab where lab technicians painstakingly chip away at plaster enclosed lumps of rock to expose the bones inside.
Peter at work in the lab
We visited two years ago and Peter volunteered for two days to work in the lab and so again he fronted up for another couple of days. The original owner of the property has taken on the job of overseeing the whole wonderful project (leaving the running of his large property to his two sons), and is the most lovely man. Down to earth, he sits and chats to everyone, including me when I was sitting in the 'crib room' just knitting! He recently was awarded an 'Order of Australia medal – and for his work and support of the Australian Age of Dinosaurs it was justly deserved.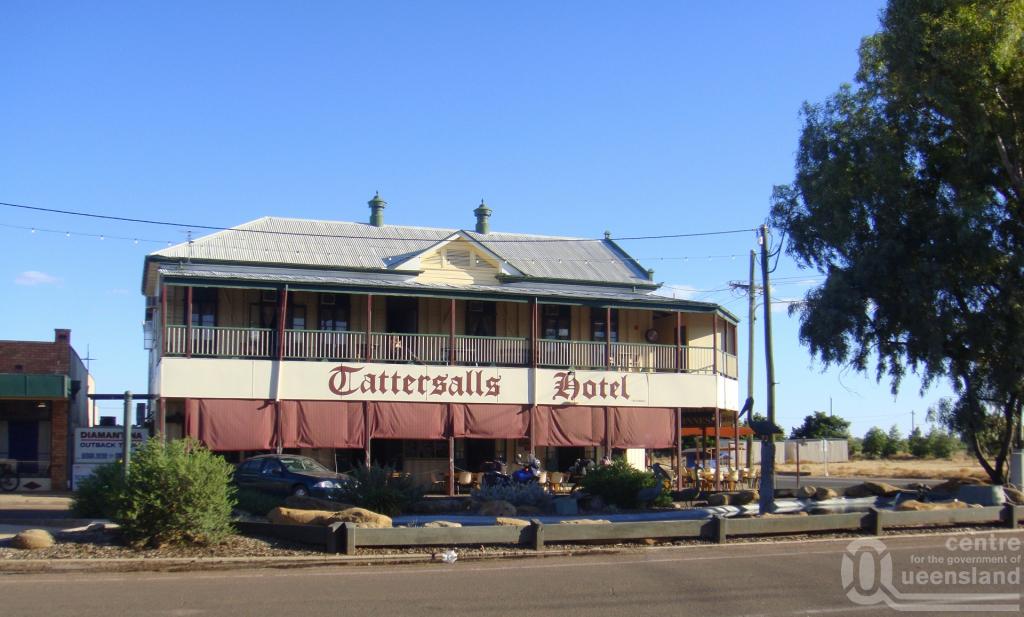 We parked our van in Winton just across from the Tattersalls Hotel (the "Tatts") and travelled each day to the AAD centre on a Jump-Up (high clifftop) south of the town. In the evening pub meals were excellent and it was good to sit outside and chat to other travellers.
On our last day we drove about 200 kms to Lark Quarry where there is evidence of a hoard of dinosaur footprints which had been imbedded in soft mud, then covered in ironstone which preserved them for us to see 98 million years later. It is quite astonishing to where a large dinosaur came upon many smaller ones, and to see how the footprints scattered. The experts suggest that that panic episode only took 3-4 minutes, but that moment in time and its story is revealed to us eons later.
The area is undercover in an excellent custom built shelter and there are guided tours/talks three times each day. We took a picnic lunch and sat outside in a shaded shelter when all the visitors had left and enjoyed the desert like scenery with views of saltbush and spinifex and little native birds hanging around for crumbs. The guide came and sat with us while waiting his next group of people and a very personable and interesting young man he was, too. He considers it one of the best attractions in Australia - up there with Uluru (Ayers Rock) and the Great Barrier Reef. It's hard not to agree with him.
Footprint of the huge meat-eating dinosaur which caused the panicked rush of smaller dinosaurs.
The small dinosaur footprint (in positive) caused by ironstone. It's impossible not to touch it.
This short period of our holiday learning about dinosaurs has been fascinating for us. The almost incomprehensible time span of 98 million years brings home to me that a human lifespan is a mere speck in time but we are so fortunate to be able to visit this area which is revealing so much of life millions of years ago.